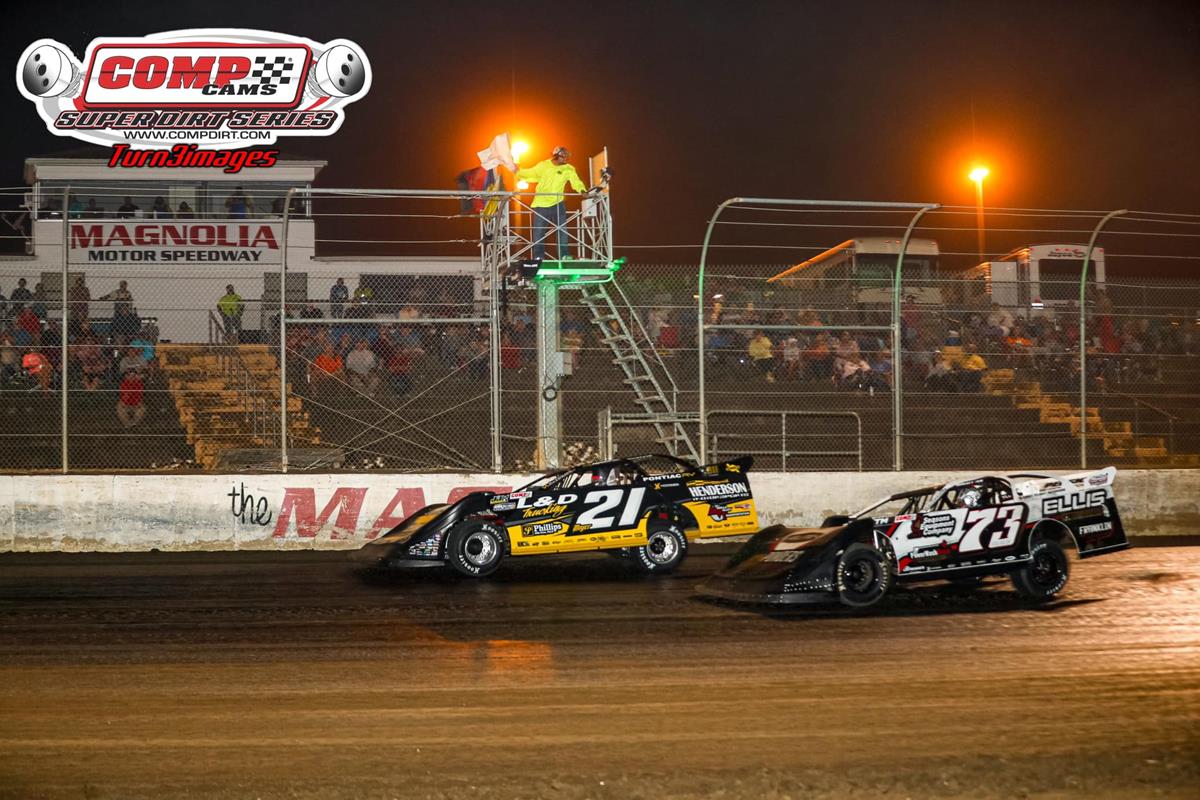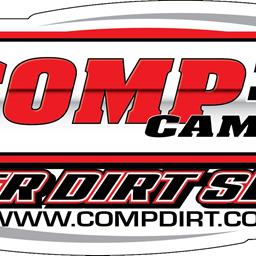 9/23/2023
COMP Cams Super Dirt Series (CCSDS)
---
Billy Moyer Jr. Victorious in CCSDS Cotton Pickin Opener
COLUMBUS, Miss. (09/22/23) – The COMP Cams Super Dirt Series (CCSDS) Super Late Model Series opened the Cotton Pickin' presented by Whelen Engineering weekend on Friday night at Magnolia Motor Speedway, and Billy Moyer Jr. emerged victorious by a mere 0.0109 seconds over a hard-charging Evan Ellis to score the $4,000 victory
"We were pacing through lapped traffic there because some of those guys were having a hard time, and Evan (Ellis) got by me, and thankfully I was able to get back around him one lap later. I was trying to hit my marks there late, and it all worked out," Moyer Jr. said in FloRacing Victory Lane. "Thanks to Henderson Motorsports, Mesilla Valley Transportation, Phillips CPA, all my sponsors, and everybody who makes this possible. With what the Henderson family has done this year, providing me with this ride, it allows me to focus on driving the car, and I can't thank them enough for that. We're focused on getting the championship, and this was a great night for us."
From the NewVisionCustomShirts.com Pole Position Moyer Jr. jumped to the lead as the 40-lap feature went green. Moyer held onto the top spot until third-starting Evan Ellis took control in lapped traffic on the 21st circuit. One lap later Moyer Jr. retook the top spot.
He survived a few late-race cautions and a last-lap charge from Ellis to take the win by 0.109 seconds.
The CCSDS victory was his third of the 2023 season and the 23rd of his career.
Ashton Winger, Clay Stuckey, and Sam Seawright rounded out the Top-5 finishers.
Jeremy Shaw was the MD3 Five Star Bodies Hard Charger after advancing from 17th to seventh in the feature.
The Cotton Pickin' presented by Whelen Engineering weekend draws to a close on Saturday night for the COMP Cams Super Dirt Series Super Late Models with a complete program headlined by a $12,000-to-win/ $700-to-start finale. A full compliment of local division action joins the weekend slate.
Saturday Night Super Late Model Purse
1)$12,000 2)$6,000 3)$3,500 4)$2,500 5)$2,000 6)$1,600 7)$1,500 8)$1,400 9)$1,300 10)$1,200 11)$1,100 12)$1,000 13)$900 14)$800 15)$750 16)$725 17-24)$700
The Super Late Model tire rule for the weekend is as follows:
Front Tires & Left Rear: Hoosier NLMT2, LM20, NLMT3, LM30
Right Rear: Hoosier NLMT3, LM30
For more information on the facility, please visit www.MagnoliaDirt.com .
The COMP Cams Super Dirt Series is sponsored by and would like to thank all of their sponsors including- COMP Cams, Pannell Chipping, VP Racing Fuels, Mark Martin Automotive, Keyser Manufacturing, Hyperco, Weiland Metal Services, Case No. 1 Engine Oil, Fiber Tec Laser Cutting, P&W Sales, Mississippi Police Supply, Mr. Dent Paintless Dent Removal & Collision Repair, FloRacing, Tommy Surrett Trucking, NewVisionCustomShirts.com, Rocket Chassis, Midwest Sheet Metal, Black Diamond Chassis, World Racing Group, Hoosier Race Tires, Smiley's Racing Products, Dixon Road U-Pull-It, Beach Veterinarian Services, Air Power Consultants, Schoenfeld Headers, MI Truck Center, ASC Warranty, Quickcar Racing Products, Deatherage Opticians, Taylor Electric, DIRTcar Racing, Mid-State Golf Cars LLC, Delta Thunder Motorsports, Advanced Powder Coating, Farmer's Tree Service, Autocraft Paint & Bodyworks, Toyota, MSD, ARP, Edelbrock, MD3 Five Star Bodies, Chevrolet Performance, SUBLMTD Apparel, and MyRacePass Website & PR Services.
For the latest information on the COMP Cams Super Dirt Series presented by Lucas Oil, please visit www.COMPDirt.com.
COMP Cams Super Dirt Series – September 22, 2023
Magnolia Motor Speedway (Columbus, Miss.)
Edelbrock A Feature 1 (40 Laps): 1. 21JR-Billy Moyer Jr[1]; 2. 73-Evan Ellis[3]; 3. 12W-Ashton Winger[2]; 4. 15W-Clayton Stuckey[5]; 5. 16S-Sam Seawright[7]; 6. 21XXX-Neil Baggett[8]; 7. 1S-Jeremy Shaw[17]; 8. 34-Noah Daspit[6]; 9. 21-Billy Moyer Sr[15]; 10. 97-Cade Dillard[9]; 11. 86-Kyle Beard[20]; 12. 1R-BJ Robinson[16]; 13. 14C-Haiden Cowan[4]; 14. 12-Scott Crigler[13]; 15. 14-Morgan Bagley[21]; 16. R5-Hunter Rasdon[23]; 17. C66-Donald Johns[18]; 18. 90R-Brian Rickman[24]; 19. 19B-Jamie Burford[26]; 20. 187-David McCoy[12]; 21. 5-Jon Mitchell[22]; 22. 17-Jarret Stuckey[25]; 23. 00M-Monte Skinner[10]; 24. 93-Mason Oberkramer[19]; 25. 12E-Jamie Elam[11]; 26. 99F-Clay Fisher[14]
DNS: Wil Herrington, Parker Martin, Rick Rickman, Josh Putnam, Brad Couch, Brayden Mitchell, Chance Mann, Mike Myers, Stephen Brantley, David Breazeale, Thomas Langley, Jason Hiett, Caden Mullinax, Grayson Brewer, Jon Kirby, Mark Clifton, Lynn Irwin, Oakley Johns, Trey Mills, Chase Williams
Entries: 46
Mark Martin Automotive Group A Fast Qualifier (and overall): Clayton Stuckey (13.868 sec.)
Mark Martin Automotive Group B Fast Qualifier: Ashton Winger (14.151 sec.)
Mississippi Police Supply Heat Race #1 Winner: Billy Moyer Jr.
Delta Thunder Motorsports Heat Race #2 Winner: Evan Ellis
SUBLMTD Heat Race #3 Winner: Ashton Winger
Weiland Heat Race #4 Winner: Haiden Cowan
B-Main Winners: Donald Johns, Jeremy Shaw
MD3 Five Star Bodies Hard Charger: Jeremy Shaw (17th to 7th)
Lap Leaders: Billy Moyer Jr. (1-20, 22-40); Evan Ellis (21)
Hyperco Hot Lap Fastest Lap: Ashton Winger (13.471 sec.)
Deatherage Opticians Lucky 13: Haiden Cowan
NewVisionCustomShirts.com Pole Sitter: Billy Moyer Jr.
COMP Cams Top Performer: Billy Moyer Jr.
Midwest Sheet Metal Marked Man: Billy Moyer Jr.
Midwest Sheet Metal Rookie: Jamie Burford
Back to News