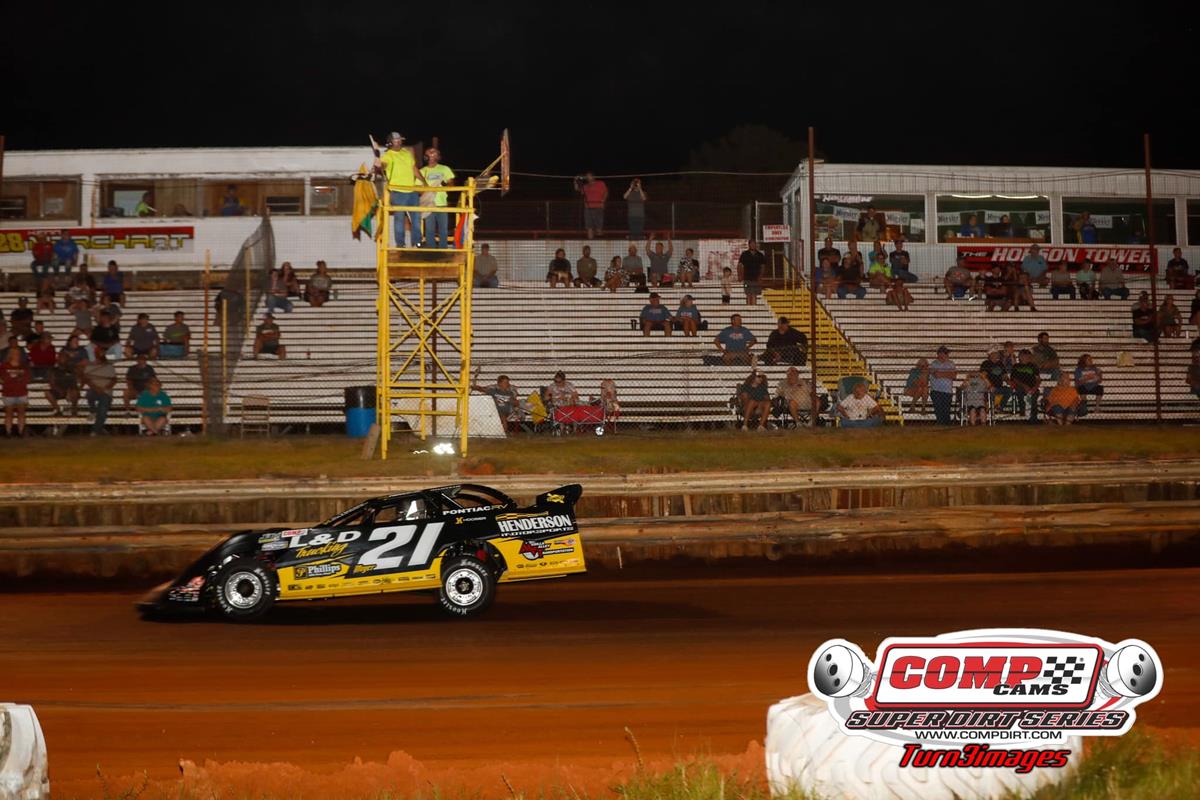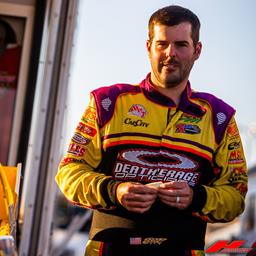 ---
Moyer Jr. steals Comp Cams victory at Super Bee Speedway
Billy Moyer Jr. took advantage of Kyle Beard's bad luck in lapped traffic on Friday night at Super Bee Speedway to collect his third win of the year aboard the Henderson Motorsports No. 21 Mesilla Valley Transportation / Phillips CPA / Pontiac RV / Bilstein / Longhorn Race Car / Clements Racing Engines Super Late Model.
Not only did Moyer Jr. earn his third win of the season over the weekend, but on the heels of his weekend consistency he also propelled himself into the Midwest Sheet Metal point lead for the COMP Cams Super Dirt Series as he pursues his second-career crown.
"We had a great weekend with our Henderson Motorsports No. 21. I hated to see Kyle (Beard) have that bad luck with the lap car on Friday night. I've been on the other end of that deal before, and we were lucky enough to be in a position to capitalize. We were in the fold at Jackson (Motor Speedway) on Saturday and came away with a fifth, and then at Magnolia (Motor Speedway) on Sunday, the rain from the day before had that place hammer down and aggressive. Thankfully, we came out of there in one piece with a sixth-place finish," Moyer Jr. said. "We're down to just six COMP Cams (Super Dirt Series) events remaining, and we're in the point lead now, but only by a few points, so every event will be key. Thank you as always to everyone, who supports this race team."
For a three-day swing with the Comp Cams Super Dirt Series (CCSDS), Billy Moyer Jr. opened his Labor Day weekend on Friday evening at Super Bee Speedway (Chatham, La.) aboard his Henderson Motorsports No. 21 Super Late Model.
With 21 Late Models on the grounds, Moyer Jr. claimed the fast time honors in qualifying with a blistering 15.211-second lap before coming in first in his heat. Taking advantage of an early incident that saw the leader drop to the tail after tangling with a lap car, Billy grabbed the lead on the 10th circuit and dominated the remaining distance of the 40-lapper to record his third win of the season and 21st-career CCSDS triumph.
He banked a $5,000 payday ahead of Jon Mitchell, Jamie Burford, Brian Rickman, and B.J. Robinson.
With the field inflated to 25 cars on Saturday at Jackson Motor Speedway (Byram, Miss.) for the 12th annual All-American 60, Billy outdueled Morgan Bagley in his heat to capture the eight-lap victory. Starting the $6,000-to-win A-Main in third, Moyer Jr. lost two spots in the 60-lap affair to register a fifth-place finish, which came behind Neil Baggett, B.J. Robinson, Bagley, and Brian Rickman.
The three-race weekend drew to a close on Sunday evening at Johnny Stokes' Magnolia Motor Speedway (Columbus, Miss.). Heavy rain from the previous days left the oval heavy and rough. Moyer Jr. persevered to finish second in his heat race before notching a sixth-place finish in the finale in an event that saw 31 entries on hand.
On the heels of Friday's win pair with Saturday and Sunday's consistency, Billy now leads the latest CCSDS point standings by 25 markers.
Full results from the events are available at www.COMPDirt.com.
Moyer Jr. leads the CCSDS contingent into battle this weekend in a pair of events. The swing opens on Friday at Texarkana (Ark.) 67 Speedway with the $5,555-to-win Kenneth Mitchell Memorial before shifting south to Boothill Speedway (Greenwood, La.) on Saturday for the $5,000-to-win 51st annual Louisiana Dirt Track Championship.
Event details are available at www.67SpeedwayofTexarkana.com and www.BoothillDirt.com.
Article Media
Back to News