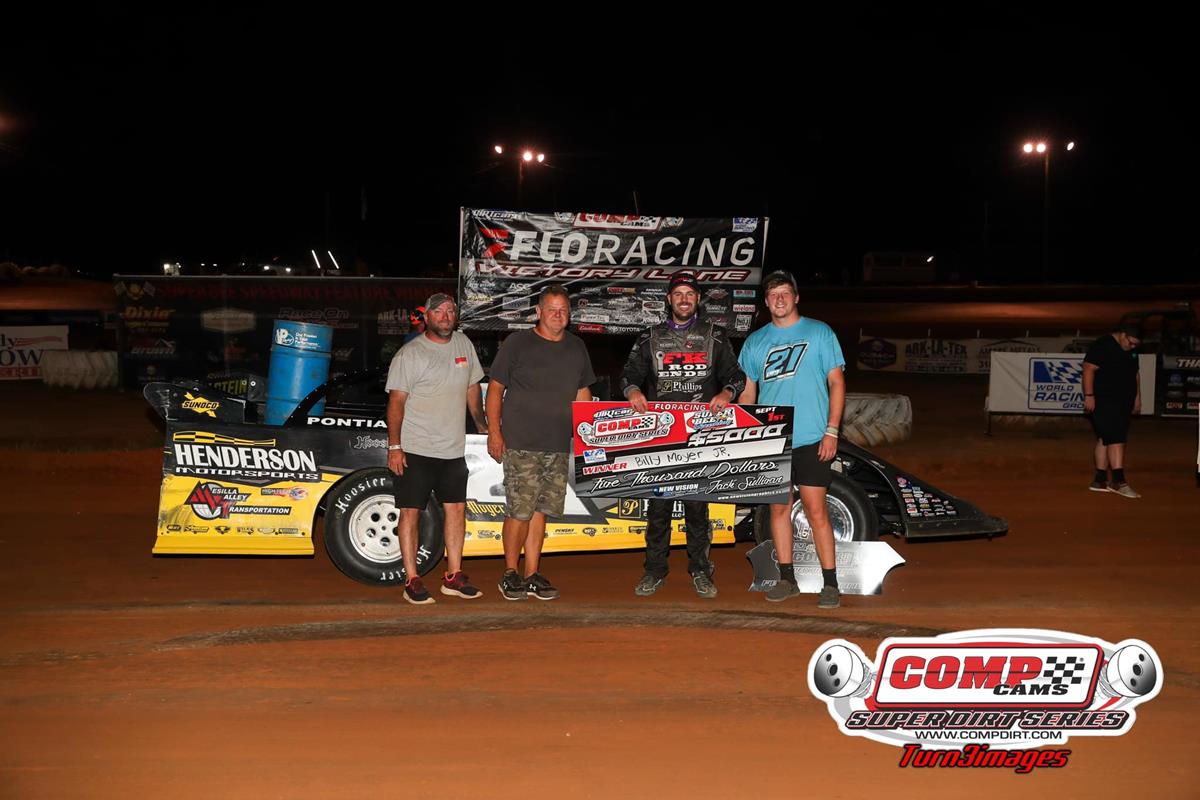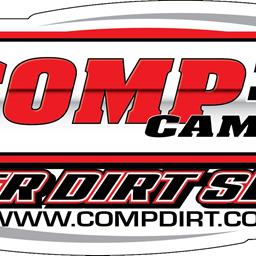 9/1/2023
COMP Cams Super Dirt Series (CCSDS)
---
Billy Moyer Jr. Lands in CCSDS Chagham Victory Lane
CHATHAM, La. (09/01/23) – The COMP Cams Super Dirt Series (CCSDS) Super Late Model Series opened their three-race Labor Day Classic weekend swing on Friday night at Super Bee Speedway, and it was Billy Moyer Jr. who capitalized on early race leader Kyle Beard's bad luck to take not only the $5,000 victory but also the tour's point lead.
"Yeah man, I hate that happened (to Kyle Beard), you don't wish that upon anybody, those guys were fast," Billy Moyer Jr. said. "You know it could've gotten exciting in lapped traffic, but (Beard) would've been hard to beat. But, we've had our fair share of bad luck and just glad to get a win here."
After setting fast time in Mark Martin Automotive Qualifying and winning his heat race Billy Moyer Jr. started on the NewVisionCustomShirts.com Pole for the feature. He was joined on the front by Kyle Beard, who was the Midwest Sheet Metal Marked Man atop the series standings entering the event.
Beard jumped to the early lead and paced the first 10 circuits before a spinning lap car collected the leader on the 11th circuit. Moyer Jr. assumed control of the lead and paced the remainder of the event for his second win on the season and his 21st-career series victory.
Jon Mitchell, Jamie Burford, Brian Rickman, and B.J. Robinson completed the Top-5 finishers.
Moyer Jr.'s win paired with Kyle Beard's bad luck allowed Moyer Jr. to take over the Midwest Sheet Metal Marked Man status atop the series' standings. Meanwhile Jamie Burford overtook Jarret Stuckey for the top spot in the Midwest Sheet Metal Rookie of the Year battle.
Action continues on Saturday, Sept. 2 with the 12th annual Roger Dabbs Chevrolet All American 60 is scheduled for Jackson Motor Speedway (Byram, Miss.) and posts a $6,000 top prize. Joining the night's action are Crate Racin' USA 604 Late Models, Crate Racin' USA 602 Sportsman, Crate Racin' USA Street Stocks, Factory Stocks, Hot Shots, and Capitol City Sprints
Grandstand admission is $22 for adults and $12 for kids. Pit passes are $35 for adults and $20 for kids. The pit gate opens at 4 p.m. with the grandstand gates opening at 5 p.m.
The three-day swing draws to a close on Sunday evening, Sept. 3 at Magnolia Motor Speedway (Columbus, Miss.) with a $5,000-to-win CCSDS extravaganza. Joining the night will be a complete Weekly Racing Series Event, including The S & J Auto Sales Crate Late Models, Trak-Star Street Stocks, William Wells Three Star Tire Factory Stocks, Murphy Towing Late Model Sportsman, Twin River Auto Sales Modifieds, and The Eaton Clinic Hot Shots.
Grandstand Admission (ages 11-and-up) is $25 and kids (ages 10-and-under) are free. Pit admission (ages 11-and-up) is $35 and children (ages 6-10) are $25 while kids (ages 5-and-under) are free. The pit gate opens at 3 p.m. with the grandstand gates opening at 5 p.m. and the driver's meeting at 6 p.m. and racing action at 7:30 p.m.
For more information on the weekend's events, please visit www.JacksonMotorSpeedway.net and www.MagnoliaDirt.com .
The weekend tire rule is as follows:
Front Tires & Left Rear: Hoosier NLMT2, LM20, NLMT3, LM30
Right Rear: Hoosier NLMT3, LM30
The COMP Cams Super Dirt Series is sponsored by and would like to thank all of their sponsors including- COMP Cams, Pannell Chipping, VP Racing Fuels, Mark Martin Automotive, Keyser Manufacturing, Hyperco, Weiland Metal Services, Case No. 1 Engine Oil, Fiber Tec Laser Cutting, P&W Sales, Mississippi Police Supply, Mr. Dent Paintless Dent Removal & Collision Repair, FloRacing, Tommy Surrett Trucking, NewVisionCustomShirts.com, Rocket Chassis, Midwest Sheet Metal, Black Diamond Chassis, World Racing Group, Hoosier Race Tires, Smiley's Racing Products, Dixon Road U-Pull-It, Beach Veterinarian Services, Air Power Consultants, Schoenfeld Headers, MI Truck Center, ASC Warranty, Quickcar Racing Products, Deatherage Opticians, Taylor Electric, DIRTcar Racing, Mid-State Golf Cars LLC, Delta Thunder Motorsports, Advanced Powder Coating, Farmer's Tree Service, Autocraft Paint & Bodyworks, Toyota, MSD, ARP, Edelbrock, MD3 Five Star Bodies, Chevrolet Performance, SUBLMTD Apparel, and MyRacePass Website & PR Services.
For the latest information on the COMP Cams Super Dirt Series presented by Lucas Oil, please visit www.COMPDirt.com.
COMP Cams Super Dirt Series – September 1, 2023
Super Bee Speedway (Chatham, La.)
A Feature 1 (40 Laps): 1. 21-Billy Moyer Jr[1]; 2. 5-Jon Mitchell[4]; 3. 19-Jamie Burford[10]; 4. 90R-Brian Rickman[6]; 5. 1-BJ Robinson[7]; 6. 3K-Tanner Kellick[5]; 7. R5-Hunter Rasdon[12]; 8. 17-Jarret Stuckey[16]; 9. 48-Cody Leonard[18]; 10. B17-Brandon Ball[15]; 11. 5C-Brad Couch[11]; 12. 11-Jon Kirby[14]; 13. USA128-Kylan Garner[13]; 14. 11A-Bubba Mullins[8]; 15. B89-Dakota Smith[21]; 16. 86B-Kyle Beard[2]; 17. 125-Mark Underwood Jr[9]; 18. 9-James Moore[20]; 19. 14M-Morgan Bagley[3]; 20. 25-Mikey Kile[17]; 21. 88-Chance Mann[19]
Entries: 21
Mark Martin Automotive Group Fast Qualifier: Billy Moyer Jr. (15.139 sec.)
Integra Shocks & Springs Heat Race #1 Winner: Billy Moyer Jr.
P&W Sales Heat Race #2 Winner: Kyle Beard
VP Racing Fuels Heat Race #3 Winner: Morgan Bagley
MD3 Five Star Bodies Hard Charger: Cody Leaonard (18th to 9th)
Lap Leaders: Kyle Beard (1-10), Billy Moyer Jr. (11-40)
Hyperco Hot Lap Fastest Lap: Billy Moyer Jr. (15.139 sec.)
Deatherage Opticians Lucky 13: Kylan Garner
NewVisionCustomShirts.com Pole Sitter: Billy Moyer Jr.
COMP Cams Top Performer: Billy Moyer Jr.
Midwest Sheet Metal Marked Man: Kyle Beard
Midwest Sheet Metal Rookie: Jamie Burford
Back to News