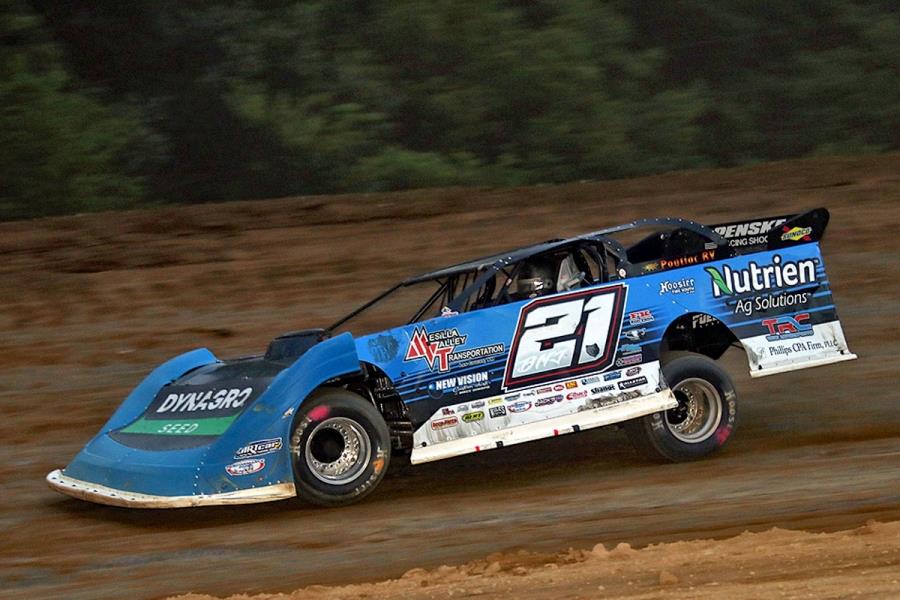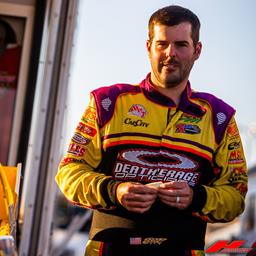 ---
Billy Moyer Jr. banks $5,000 Summer Nationals payday at Butler
Billy Moyer Jr. piloted his Nutrien Ag Solutions No. 21 Dyna-Gro Seed / Mesilla Valley Transportation / Phillips CPA / Titan Motorsports / Pontiac RV / Longhorn Race Car / Clements Racing Engines Super Late Model to his second win of the season on Thursday night at Michigan's Butler Motor Speedway. (Jim Denhamer image)
The triumph was worth $5,000, and he also claimed a $2,000 prize for topping Michigan Week on the DIRTcar Summer Nationals.
"The car was really good. I told my daughter on the phone earlier in the day at Butler (Motor Speedway) I'd say her name on TV, so the pressure was on me when we didn't run heat races," Moyer said. "So, I had to win that race. We had a good car all week and grabbed some extra cash for the Michigan week points deal, so that was cool too. It's great to be back home, and we are now regrouping and checking out schedules for when and where we'll race next. Thanks to all the sponsors, who make my program possible. Their support means the world to me."
On Wednesday afternoon, Billy Moyer Jr. was back on the road with the DIRTcar Summer Nationals as the tour invaded Thunderbird Raceway (Muskegon, Mich.).
Shortly after topping the 41-car field in time trials, a storm rolled in and postponed the remainder of the program to July 24. Unfortunately the reschedule date also fell victim to rain and was rescheduled for August.
The following night at Butler Motor Speedway (Butler, Mich.), Moyer locked into the second-starting position for the main event via his qualifying effort after a looming rain shower forced race officials to rush the program along.
Leading flag-to-flag in the 40-lap affair, Billy cruised to his 10th-career DIRTcar Summer Nationals triumph over Chad Finley, Dona Marcoullier, Payton Freeman, and Eric Spangler. He earned $5,000 for his second win of the season.
Miniseries action took the team to Tri-City Motor Speedway (Auburn, Mich.) on Friday night, where 34 entries registered for battle, and following a second-place finish in his heat race, Billy advanced from fifth to second in the feature behind Dona Marcoullier with Chad Finley, Eric Spangler, and Cody Bauer rounding out the Top 5.
On Saturday night Moyer Jr.'s weekend drew to a close at Merritt Speedway (Lake City, Mich.) with a heat race win and a third-place finish in the feature behind Brandon Thirlby and Eric Spangler.
His week-long performance earned him the Michigan week's point title, which was worth $2,000.
Full results from the week are available at www.DIRTcarSummerNationals.com .
Article Media
Back to News